Our Services
Denning's Cars Ltd is the first bodyshop in South Dublin to achieve new Industry Standard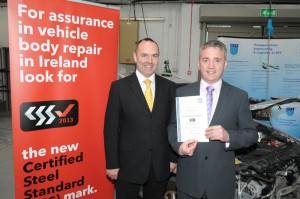 Denning's Cars Ltd of Bellavista Spawell, Tallaght Road Dublin 6W is delighted to announce that we have successfully achieved the new 'Certified Steel Standard' (CSS) which is the new voluntary standards programme for professional bodyshops in Ireland.
Today, Wednesday 1st May, Denning's Cars Ltd was presented with the certification by SIMI President Alan Lyons in DIT (Dublin Institute of Technology) "These bodyshops should be commended for their efforts in raising the standards in their Industry. They have invested in state-of-the art equipment to repair crashed vehicles to the highest quality."
The standard, the first of its kind, was developed by the SIMI (Society of the Irish Motor Industry) and is supported by the RSA (Road Safety Authority)
To achieve CSS certification, a bodyshop must pass an independent audit of their personnel, equipment, the suitability of their repair methods and the quality of their repair materials, which are inspected against set criteria.
Liam Denning of Denning's Cars Ltd says, "We worked hard to achieve CSS accreditation as we feel it is important to clearly demonstrate to our customers that our bodyshop is committed to the highest quality and safety standards. Customers deserve the best service and standard of repairs when they experience the trauma of a crash repair. The CSS certification will offer consumers confidence that the repairs completed on their vehicle are to the highest standard."
Speaking at the event, Noel Brett, CEO of the RSA said, "It is vital that all crash damaged vehicles are repaired professionally to the manufacturer's specification. CSS provides written assurance that the vehicle has been professionally repaired to the manufacturer's specification using certified parts. I want to compliment the SIMI for their initiative in introducing this new voluntary standard. I look forward to its implementation and evolution over the next few years."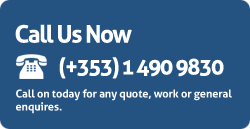 Testimonials

continued excellence

I would like to convey my gratitude for the way in which you and your team dealt with me and my husband following my accident.

The concern and interest you showed in our situation was very much appreciated and we were delighted with your service and the quality of the repair to our car.